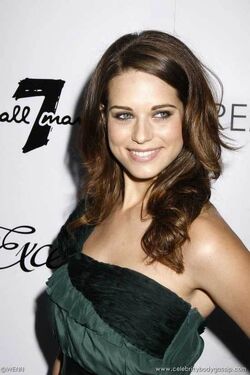 Lyndsy Fonseca (born January 7, 1987) is an American actress known for playing Colleen Carlton on the CBS daytime soap opera The Young and The Restless, Dylan Mayfair on the ABC series Desperate Housewives, and Ted's daughter in How I Met Your Mother.
She also played Katie Deauxma in the 2010 superhero film Kick-Ass. She starred as Alex in the CW's action series Nikita.
Early Life
Edit
Fonseca is half Portuguese. Born in Oakland, she was raised first in Alameda and then Moraga. She was discovered there by a manager and agent and immediately moved to Los Angeles for her first pilot season at age 13 in the middle of the school year. The following year she booked her breakthrough role, playing Colleen Carlton on The Young and the Restless with a 3-year contract.
With that, her parents moved the whole family to Los Angeles. Since the end of her contract, she has booked many television guest spots, television movies, two pilots and an independent feature film.
In 2001, Fonseca was signed by an agent and a manager and played troubled teen Colleen Carlton in CBS' number one daytime drama The Young and the Restless. She also had recurring roles as Ted Mosby's future daughter on How I Met Your Mother and as Donna on HBO's Big Love.
In fall 2007, she played Dawn in the movie Remember The Daze, a remake of the 1999 graduating class. She joined the cast of ABC's Desperate Housewives as the daughter of Katherine Mayfair (Dana Delany), a character moving onto Wisteria Lane. Fonseca also appeared in an episode of Switched.
In 2008 she was nominated for the Actor award at the Screen Actors Guild Awards for Outstanding Performance by an Ensemble in a Comedy Series for Desperate Housewives (2004) shared with the cast. Fonseca played Katie Deauxma in the 2010 superhero film Kick-Ass. She appeared in three more US films in 2010, including Hot Tub Time Machine.
In 2010, she was cast in the CW's Nikita as Alex, a new recruit.
Ad blocker interference detected!
Wikia is a free-to-use site that makes money from advertising. We have a modified experience for viewers using ad blockers

Wikia is not accessible if you've made further modifications. Remove the custom ad blocker rule(s) and the page will load as expected.